Students who I work with learn to play with a beautiful sound, develop a complete, effective technique and feel at ease while performing.   Many of my students have gone to All State festivals and some have participated in the in the Julliard Pre-College program and gone on to study at top music schools such as Eastman, the Cleveland Institute of Music and the New England Conservatory of Music.  A number of my students have played with the Metropolitan Youth Orchestra, the Long Island Youth Symphony and the Gemini Youth Orchestra, and several of them have played with the New York Youth Symphony.  One of them performed in the National Orchestra of Puerto Rico for three years.
I appreciate the quality of the students that show up for lessons.  I feel that there's something about the nature of the oboe that attracts students of exceptional ability and intelligence.  I find that most of them have a special connection with the instrument and a strong motivation to learn and improve their playing.
Because of my teaching ability and extensive experience, I am able to offer effective solutions to the particular challenges of oboe playing, such as embouchure, breath support and reeds that make a substantial difference to the student.  I'm happy to work with beginners all the way to very advanced.  Over the years, I have taught students from third grade through college as well as a number of adults.
I am glad to be involved with such inspiring work.  It's uplifting and meaningful to hear a student improve and play beautifully.
I offer private instruction at my studio in Stony Brook, NY. and online through Zoom.  I can be reached at 631-689-3415 or at keevil1oboe@gmail.com
---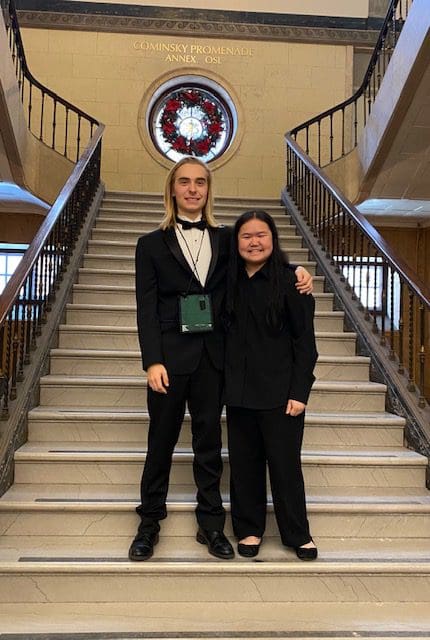 Will Dunlop and Hannah Kleinman
All-State, 2019